On 8 and 10 November, The National Archives held an event focused on the role of the archives and cultural heritage sectors in supporting environmental sustainability. The event brought together a wide range of speakers and up to 180 archives, collections and conservation professionals to share histories, networks, perspectives, guidance and actions that could inspire and empower them to work towards a more sustainable future.
Thanks are due to everyone who attended and in particular to those who agreed to share their thoughts, expertise and experiences. A summary of some of the main themes to emerge during the event is provided below, but for those of you who wish to revisit or experience the unabridged version, recordings of Day 1 and Day 2 are now available on The National Archives' YouTube channel.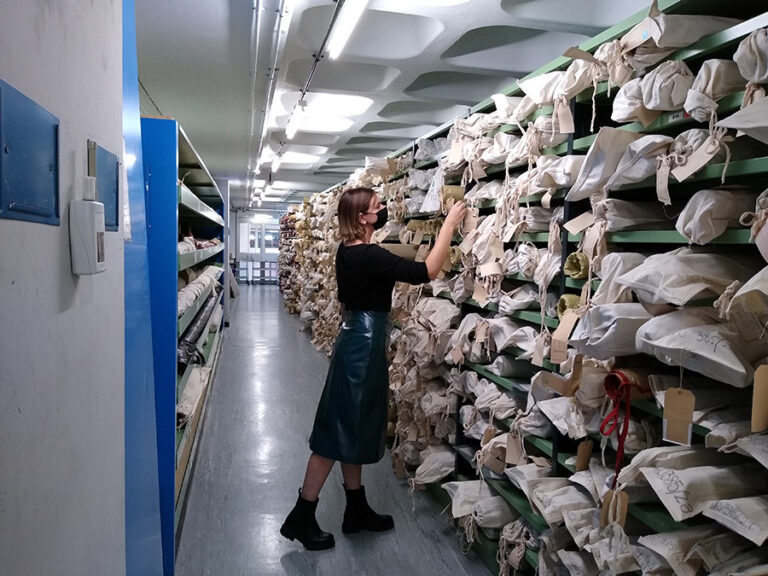 The need for partnerships and for working together was a common theme. The event introduced a number of different networks and initiatives, including the Climate Heritage Network (CHN), the UK Institute of Conservation (ICON), the ICCROM (International Centre for the Study of the Preservation and Restoration of Cultural Property) Our Collections Matter initiative, Fit for the Future, Julie's Bicycle and The Digital Preservation Coalition. May Cassar, Director of the UCL Institute for Sustainable Heritage, spoke on the potential for collaborating with academics; and it was particularly striking to hear about how some of these networks are working together.
Impact
Looking back at past actions at both Jersey Archives and The National Archives, Linda Romeril and Sarah VanSnick demonstrated the importance of collecting and reviewing data that would allow you to quantify the impact of your actions. While it can sometimes be challenging to unpick that data, understanding impact not just in terms of energy reduction and cost benefits, but also of how altering storage conditions will affect the condition and lifetime of the collections under your care, is vital.
Sustainability needs to go beyond 'just' the environment
While environmental sustainability was the key focus of the event, the need to consider sustainability more expansively was highlighted on numerous occasions. Georgina Robinson spoke of how the way in which sustainability has been discussed within the archives sector has changed and broadened over time; a long table session deliberately sought to bring out different perspectives on the topic; and the wider framework of the UN's 17 Sustainable Development Goals was addressed in presentations on the ICCROM Our Collections Matter Initiative – an initiative that The National Archives has recently partnered with.
Advocacy
The power of collections to tell stories that focus attention on and advocate for sustainability was another key theme. Sara Crofts shared The Climate Heritage Network's new Advocacy Toolkit to help empower and enable everyone to be an advocate for sustainable development. Laura Boon spoke of work carried out at the National Maritime Museum to highlight environmental issues through its collecting and exhibitions programme. In its work to preserve the past for the future, the cultural sector has always been rooted in the idea of sustaining stories and identities and it is increasingly using these stories to highlight important causes, such as that of sustainability.
Action
The scale of the sustainability challenge can often feel overwhelming, particularly as it becomes apparent how core it needs to be in all our decision making. The event sought to show how, even though the actions we can take will be shaped by our own particular circumstances and contexts, we can still act. Arielle Juler spoke about the importance of emergency planning, offering recommendations for acting now. Speakers including Lorraine Finch and Morgane Lirette shared some of the personal actions and decisions they had made, and this proved particularly inspiring for a number of those attending.

During the event, those attending were asked to contribute to a Padlet board with their own views on questions such as 'what does working for sustainability mean for you?' These comments echoed a number of the themes highlighted above. For example, in respect of sustainability needing to go beyond just the environment, people spoke of how working for sustainability involved:
'taking decisions that put the wellbeing of our planet, our species and the species we share it with in first position'
'taking a holistic view of our actions'
And in terms of action, when asked on which front they felt they were best placed to take action in support of sustainability, people commented:
'Focus less on switching off lights and more on where your money, time and energy is going'
'Get better at thinking and doing sustainably at home, build confidence, transfer the learning to work'
'Focus on the areas I am responsible for and therefore can control'
Looking forward
The National Archives continues to work towards the sustainability ambitions highlighted in our Sustainability and Climate Change Statement and strategy, Archives for Everyone, researching, communicating and working in partnership where possible to have the greatest impact within The National Archives and the wider archive sector. We're delighted that through our first sustainability-focused event, we've been able to inspire and empower others in the archive sector to act. To help broaden this legacy, the recordings of the event are freely accessible here, and links to the resources and networks presented at the event have been included in this post. Let's keep the conversation going, sharing what's worked and what hasn't, collaborating to achieve the sustainable future that we aspire to – one where sustainable development is understood to be part of everybody's role and within every organisation's grasp.