For more than 10 years volunteers at The National Archives have been cataloguing a series of Home Office Domestic Correspondence dating from the reign of King George III (HO 42), making the series searchable via Discovery, our catalogue. So far we have covered the period from 1792 to 1805, thanks to our hard-working team.
We are now working on the period from 1806 to 1811, which covers a wide variety of events and day-to-day occurrences, all recorded in these papers. We are lucky enough to have Carol Kellas, a previous employee of the Home Office volunteering with us, and in this blog Carol highlights how one man, Aaron Graham, improved the lives of prisoners on board Britain's prison hulks.

Chris Heather – Transport Records Specialist, The National Archives.
---
Record series HO 42 includes many references to prison hulks but most of us have little knowledge of them apart from the scene in Dickens' Great Expectations where the convict Magwitch, dragging his chains, surges up out of the mist of the River Medway to frighten poor Pip.
The hulks were decommissioned, stationary ships, used as prisons from 1776 when America's declaration of independence meant that convicts could no longer be shipped to the American colonies.

Plans to build penitentiaries for 600 men and 300 women never came to pass, so the most serious offenders were sent to the hulks pending eventual transportation. They were supposed to stay for one to five years only, or seven years if sentenced to 14 years transportation.
In 1784 the Finance Committee of the House of Commons accepted the advice of Mr Colquhoun who said that in his view the hulks were 'the principal cause of that corruption of morals which was the principal cause of every species of criminality,' and that he had never known a man who had been discharged from the hulks return to honest industry.
Aaron Graham
In 1791 a Civil Servant, Aaron Graham, came back from Newfoundland, where he had been instrumental in establishing an effective civil court system, and was appointed a police magistrate in London. He also became the first Inspector of Convicts, a post he held until within a few years of his death in 1818 (catalogue reference: HO 42/74/55).
In 1801 the Duke of Portland, then in charge of the Home Office, asked Graham to report on the hulks and his 1802 report was the result. Most of his attention was paid to the hulks in Portsmouth (Captivity, Portland and Laurel) and Woolwich (Prudentia and Retribution). He found a disastrous system whereby the hulks were in the hands of private contractors with no requirements as to the quantity or quality of food and clothing for convicts.
Each hulk had convicts known as 'die-hards' who, through sale or gambling, would assign their provisions to others. Disease was rife and the death rate high. There were upwards of 200 men in the hospitals, with old and infirm men being sent to the hulks when they were already dying. There was also a high turnover of officers and guards whose pay was inadequate.
Graham's report led to improvements in the hulks, staffing was removed from private contractors and taken over by Government, and new contracts specified the quality and quantity of food to be provided for convicts. In 1807 Graham reported that it was now five years since changes introduced for managing the hulks, and the Government could no longer be accused of inhumanity through leaving management of the hulks in the hands of cruel and unjust contractors (catalogue reference: HO 42/95).
Food
A Table showing the daily allowance of provisions was hung between decks so that the men could see what they were entitled to receive. Two convicts, chosen by the men, examined the provisions to see them weighed and measured. They then carried them to the cooks, who were also appointed from within their number. The word 'die-hard' was no longer known on the ships.
The food provided per week for each mess of six convicts was as follows:
Breakfast: barley 8Ib 12 oz; oatmeal 1Ib 12 oz
Dinner: bread 55Ib 2 oz; meat 23Ib 10; cheese 7Ib 14 oz; beer per half pint: 126
Supper: barley 4Ib 6oz; oatmeal 6lb 2oz.
Illness
The ships were now in a healthier state. J Porter, surgeon of Captivity and Laurel hulks, and William Bowler, surgeon of the Portland reported in 1807 that the most common ailments were fevers, pulmonary cases, catarrhal and bowel complaints, venereal cases, wounds, and ulcers. Those who died were usually old pulmonic cases, or men reduced by age and old infirmities, and there was one case of tetanus.
The Retribution and Prudentia hulks were not so lucky. J Danvers, surgeon to the hulks, reported 92 deaths in his quarterly return for April to June, seven of which were attributable to age and debility, and consumption which they brought with them into the hulks. One man died of apoplexy, one man drowned when he fell overboard, and four others died of fever. Despite this Mr Danvers considered that the general health of the hulk was good, and he hoped that the next quarter's figures would be far more favourable.
Employment
As regards work Graham reported that the contribution of the convicts in the dockyards was much appreciated, particularly their embarkation of heavy stores for the navy at Spithead. Credit was given to the captains of the hulks and the chaplain, Mr Donne, for having done much to reconcile the men to their situation and to encourage them to be obedient to those who had the care and management of them.
The convicts worked as well as the hired men. The annual cost of the convicts' maintenance was £46,729 3s 3d and the value of their earnings was £22,351 10s 6d. In Graham's view the whole business was conducted to the advantage of the public and to the credit of Government. Those in command of the hulks would, he said, welcome inspection at any time and he suggested that there should be a Code drawn up to which inspectors could refer.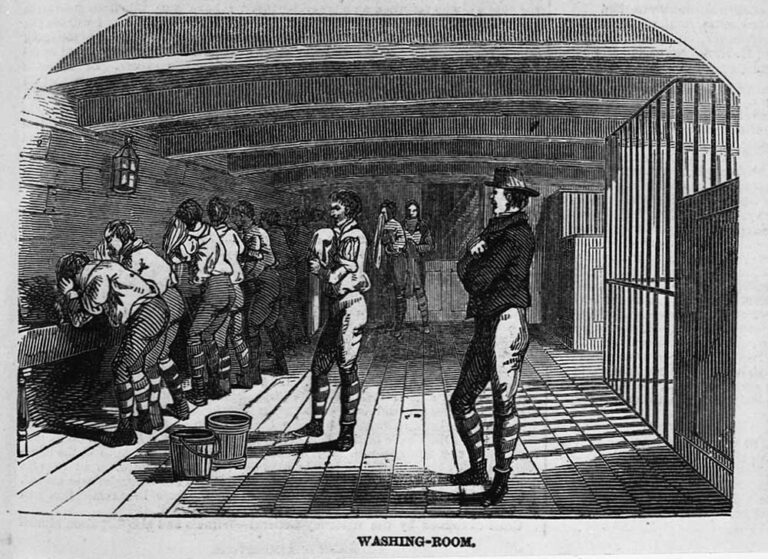 Early Release
Lastly Graham recommended that captains make a quarterly recommendation for the early discharge of 3 or 4 prisoners who had served more than half of their time and whose conduct had been exemplary. This would improve relations between the men, the Captain and the Officers. Moreover, no convict should be discharged without the recommendation of the captain, however powerful the party making the application. Convicts should understand that good behaviour alone might bring early discharge.
As a result of Graham's 1807 report there was an increase in pay for Captains, Officers and Guards, and his system of allowing early release for exemplary convicts was accepted.
Instructions to be observed by captains
As for a Code for Captains managing hulks , Mr Graham was not slow in drawing one up, which included:
The First Mate is to be in the hulk if the Captain is absent
A book is to be kept in the Steward's office recording daily occurrences, and the number of convicts victualled each day, including men on shore at work; men on board for ship duty; men sick in the hospital; those who are old and infirm and incapable of labour; shoemakers and tailors onboard and the amount of work done by each.
The Captain or First Mate, plus an inferior officer, to visit each part of the hulk every day and ensure cleanliness. Hammocks are to be lashed and taken below before the men go on shore for work and to be aired on deck when the weather is fine. The decks above and below are to be washed twice weekly and swept twice daily.
A daily allowance of provisions is to be issued each day to the convicts according to the table displayed on each deck. Convicts are to be prevented from selling their allowance to others.
Officers on guard are to be present when provisions come aboard. Two convicts are to attend when the provisions are being weighed out.
Weather permitting, all healthy convicts to go ashore for work. Tailors and shoemakers are only to work for the convicts, and not for the officers.
Sick convicts are to be examined by the surgeon, who is to visit the hospital morning and evening, and to make a daily visit to the hulk.
A sick book record is to be kept.
The Captain is to visit the hospital daily.
Annual clothing allowance per convict: two jackets, two breeches, four shirts, four pairs of stockings, three pairs of shoes, two hats, two neck-handkerchiefs, one waistcoat, and one blanket. Quarterly returns to be made in the pay books.
The clothes and bedding of convicts who escape or die are to be used for other prisoners in need, unless the person dies of an infectious fever, in which case the surgeon's opinion should be taken.
The convicts' private clothes and money are to be inventoried when they come on board, to be kept and returned to them when they leave. No fee or reward is to be taken for anything done for the convicts.
No pigs or poultry are to be kept on board.
The Chaplain is to read prayers and preach a sermon every Sunday, to visit the sick and to attend funerals.
If convicts misbehave they are not to be beaten but Officers are to use gentle and persuasive words to induce them to change their behaviour. If that is not successful, they may be punished according to the nature of their crime and a note made in the occurrence book. If a convict escapes an enquiry is to be held and if any Officer or Guard is found to be at fault it must be reported to Aaron Graham. All escapes must be notified to the Magistrates in the Public Offices in London.
Captains are to report on the conduct of individual prisoners, and each quarter report the names of the six convicts who, having served more than half their time, have shown by their conduct that they would be fit subjects of leniency.
A regular daily account of the state of the hulk is to be kept and transmitted to Aaron Graham weekly, together with an account of the convicts' labour.
Aaron Graham is to be made aware immediately of any extraordinary circumstances which occur.

Catalogue reference: HO 42/99/13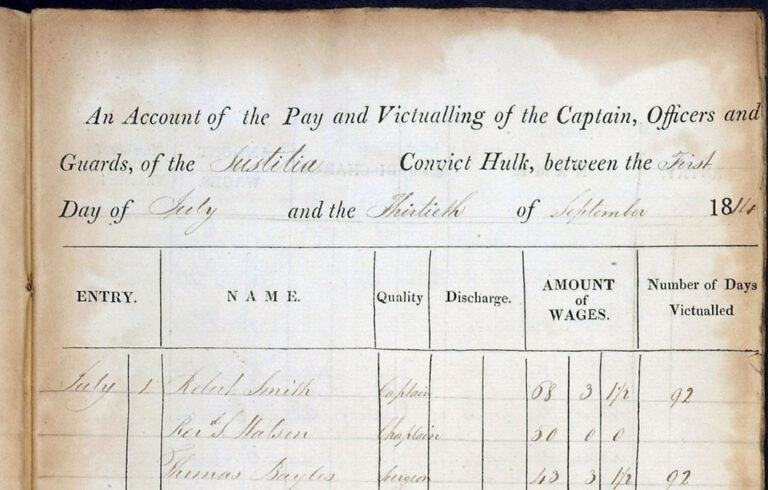 Complaints
Despite these improvements the hulks were not places of peace and tranquillity. Convicts would regularly complain, often anonymously, and Aaron Graham would visit the hulk concerned and look into each complaint. Few were substantiated. Graham took complaints about the food particularly seriously and would check that the rules were being followed. Sometimes the complaints were unfounded, for example, that the men were being driven out to work without shoes or stockings. Graham insisted on checking himself to find that this was not true.
Aaron Graham was an early supporter of the view that it was not the job of the prison to punish the offender, but to keep him in decent surroundings, to try to reform him so that on release he could once more take his place in society. It was not an easy task. Serious offenders were kept in the hulks for years. Fights, and escape attempts were frequent.
Nevertheless, thanks to Graham the men did have a roof over their heads and a reasonable provision of food and clothing, which is more than could be said for their unfortunate wives and children, in all probability left unprovided for at home.