I work in the bookshop at The National Archives. You didn't know we had a bookshop? Shame on you. It really is an undiscovered gem, well worth a visit in its own right. But of course I would say that. I love it. Tucked in the corner just off reception and opposite the coffee bar, the bookshop is a little treasure trove.
We specialise in books on all matters British-historical, including the history of some things which never happened. But alongside the books we have cards, maps, bookmarks, mugs and keyrings, to say nothing of essentials for visitors, like batteries (they always run out just when you need them), notebooks and, of course, pencils. Ah pencils, our first sale in the morning is inevitably a pencil and the day is punctuated with a stream of people who left their pencils at home, who foolishly took their eyes off their pencil in the reading room (there be magpies about up there) or whose treasured lucky pencil has a rubber on the end condemning them to persona non grata status. All of these people find their way to us seeking pencils. We sold 6,537 pencils last year alone.
Many working in The National Archives are cocooned in their own little area breathing in the sacred air of arcane knowledge, removing fingerprints or yellowing tape left by the long dead, but here in the bookshop we have an overview. We meet everyone: the staff, the researchers, the new visitor bewildered by the anti-eraser rule, and the grandfather-chaser who has just discovered just why no one spoke about Auntie Mabel. The mad, the bad, the dangerous to know – they all come to the bookshop, particularly when the moon is full. They all have their stories, often interesting, sometimes amazing and sometimes with a little too much information. We know the secret reading habits of members of staff – don't worry, we will never tell, the till is akin to the confessional.
This week we are supporting Independent Booksellers Week with a range of activities and discounts hoping to bring even more visitors to the bookshop. Bookshops are important; neglect us at your peril. Buy now from the online giants, seduced by the cheap prices and home delivery and before you know it there will be no bookshops. Bookshops are great for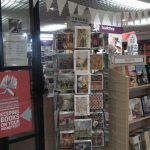 appointments (there is always something to read whilst you wait) and to meet people (a better class of pick-up joint) but, most of all, to buy books. Booksellers can recommend things you would like based on your tastes, not just a keyword algorithm. You can pick up books whose covers catch your eye; e-books have lousy jackets. You can browse a few pages before you part with your cash and discover if this is just a repackaging of one you have read before or if a favoured author has slipped sadly off-form. If there were no bookshops with groaning shelves of gaily-jacketed titles the corporate sausage machine would take over, they will sell only big names and guaranteed winners and we will all be the poorer.
So support your local bookshops. To paraphrase Mae West (surely a great reader) come up and see us sometime. Mike loves maps and can show you a map of your street in 1897, Chris has a boy's enthusiasm for cut-away diagrams of aircraft and ships and infinite patience and I have a romantic attachment to the fiction of the Great War and can be quite helpful, if you catch me on a good day. But most of all,  we all love books and we are happy to share that love.