Within the walls of No. 10 there have been some hardy, ambitious characters that have made Britain what it is today, some successful, some not. Apart from the usual political aspirations, ambition and a 'majority', what does it really take to become a ruler of people?
Sir Robert Walpole was the first holder of the office of Prime Minister in 1721. A British statesman and Whig politician, who dominated politics in the reigns of George I and George II. He was educated in Houghton, Norfolk, attended Eton College in 1690, and later went on to King's College, Cambridge.
From 1701, Walpole's effective leadership in Parliament was reflected in his self-confidence and his ability to influence and move both the emotions and the minds of men. During his 21-year tenure, Walpole pursued a policy of peace abroad, lowered taxation and reduced the national debt.
He also consolidated Whig power through a system of Royal patronage and with his influence in Parliament, he was able to use this power to his own advantage; an example of which was Walpole's efforts in securing an increase of £100,000 to the Civil list … a favour later to be rewarded, when in 1735, George II made Walpole a gift of No. 10 Downing Street.
Today, No. 10 is renowned for being one of the most famous addresses in the world and a permanent London residence and office for all of the 55 British prime ministers, up to and including Boris Johnson. Designed over three centuries ago as an ordinary residence, 10 Downing Street has undergone continuous adaptation and renovation allowing successive occupants to make their mark on the building … if only walls could talk?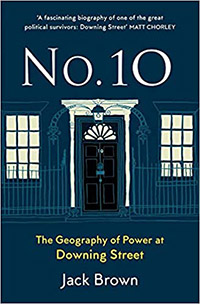 Well, No. 10, The Geography of Power at Downing Street comes fairly close – it almost lets you through the front door. This book is an intriguing insight into the comings and goings of some of the great British politicians from behind closed doors. Using unprecedented access to people and papers, the intimate stories of Downing Street's post-war residents, staff and visitors, it reveals how those in power, from Churchill to Blair and beyond, have shaped the building. This book is a fascinating history of No. 10 from the intricacies of decoration and diplomacy to the drama of terrorist bombs to COVID-19 … the 'Plague pit'.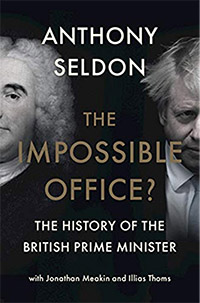 Marking the third centenary of the office of Prime Minister, The Impossible Office?: The History of the British Prime Minister is an extraordinary story, explaining how and why it has endured longer than any other democratic political office in world history. Sir Anthony Seldon, historian of Number 10 Downing Street, explores the lives and careers, loves and scandals, successes and failures of all our great Prime Ministers. From Robert Walpole and William Pitt the Younger, to Clement Attlee and Margaret Thatcher, Seldon discusses which of our Prime Ministers have been most effective and why.
He reveals the changing relationship between the Monarchy and the office of the Prime Minister in intimate detail, describing how the increasing power of the Prime Minister, in becoming leader of Britain, coincided with the steadily falling influence of the Monarchy. This book celebrates the humanity and frailty, work and achievement of each of these 55 remarkable individuals who averted revolution and civil war, leading the country through times of peace, crisis and conflict.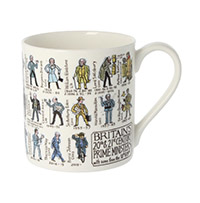 (Signed copies of this hardback publication are on sale now from our shop at The National Archives or available to order online). And why not enjoy a great cup of tea in one of our British Prime Ministers (Bone China) mugs?
Here at the National Archives we have our own publication – Images of The National Archives: Prime Ministers of the 20th Century, written by Principal Records Specialist, Mark Dunton. This book provides a general overview of the British Prime Ministers of the 20th century, summarising their premierships, their policies and the key events in British politics. It is illustrated with images of documents from The National Archives' collection, giving a fresh dimension to the study of the Prime Minister's role, providing insights into their personalities and the pressures that Prime Ministers are subject to.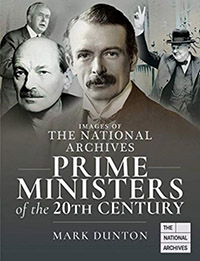 There are handwritten comments and documents that enable the reader to connect with the individual and how they felt at the time. With dramatic episodes and examples of forthright reactions and flashes of humour, this book takes you back to a moment in time in British politics.